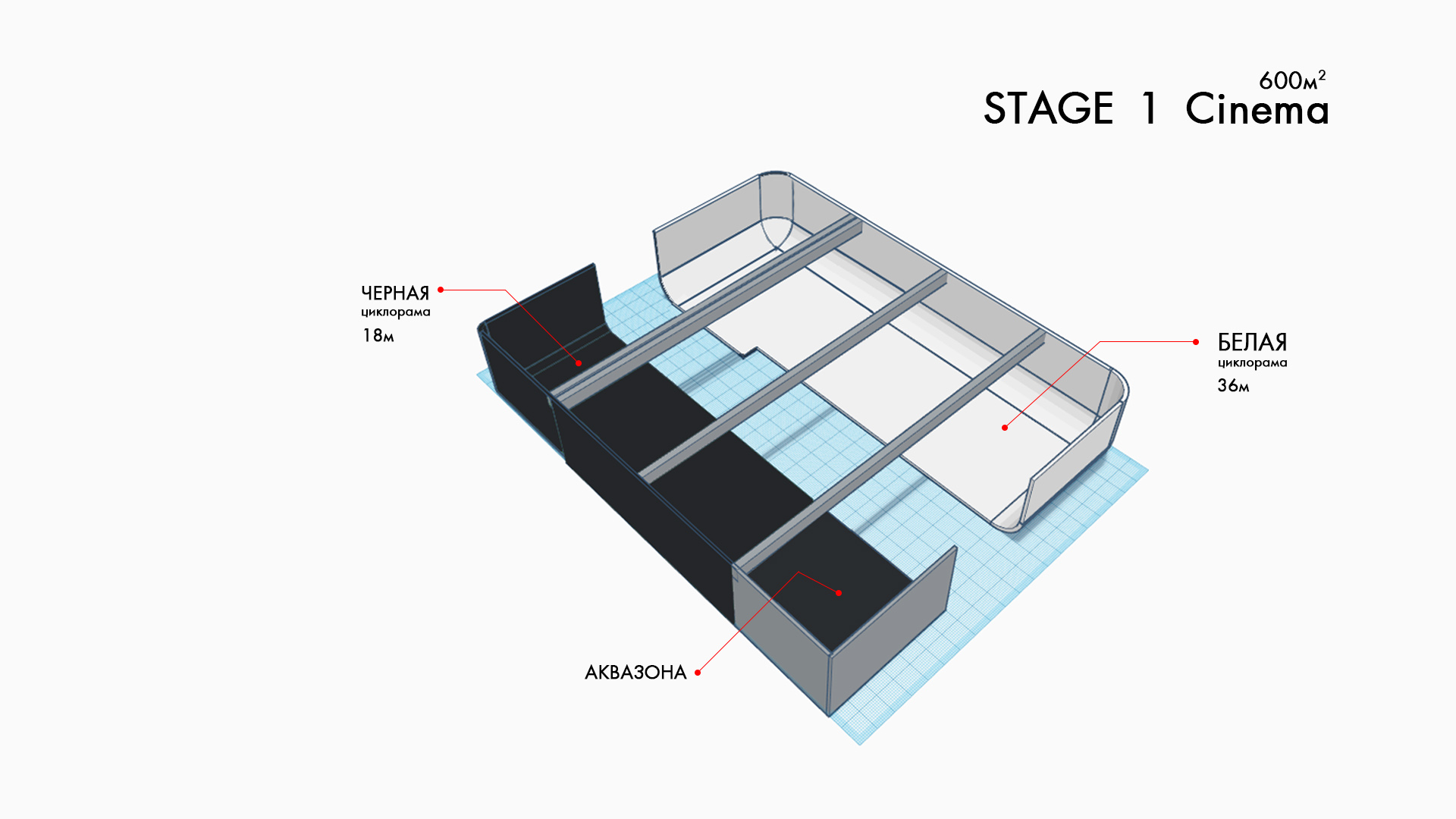 В павильоне сконструированы две большие циклорамы
[белая циклорама и черная циклорама]
Общая площадь павильона 600м2
A large pavilion with a total area of 600 square meters.
The studio has three cycloramas designed:
▪ black corner cyclorama;
▪ white longitudinal angle cyclorama;
▪ angle CHROMAKEY-cyclorama with an absolutely monochromatic coating.
Additional decorated locations are also prepared.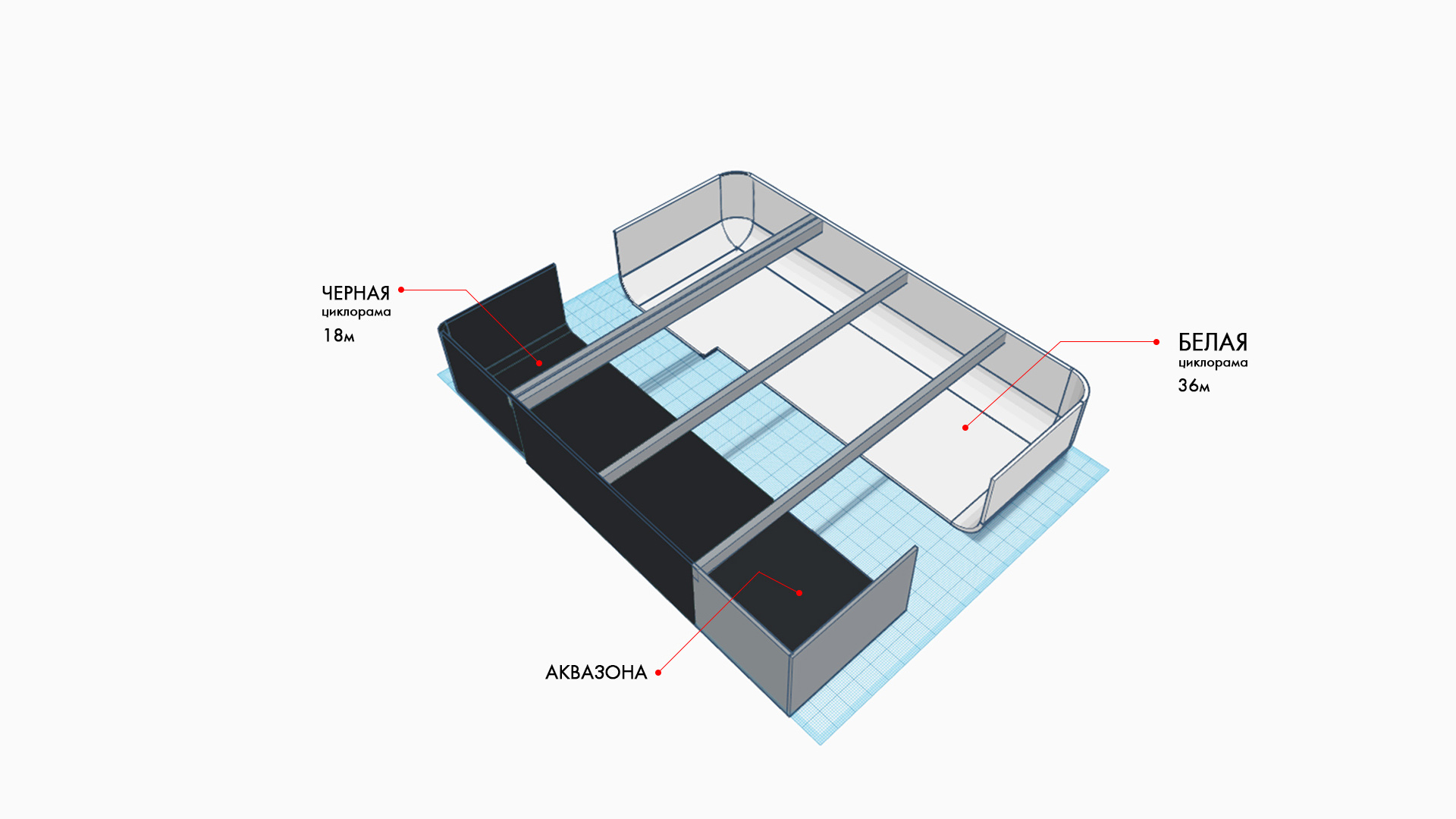 Стоимость аренды павильона с циклорамой
Цена за 1 час, грн
- Белая циклорама [12м/24м] – 1000 грн;
- Белая циклорама [36м] – 1300 грн;
- Черная циклорам [18м] – 1000 грн;
- Аквазона – 1300 грн;
- Весь павильон – 1300 грн;

Цена аренды за сутки (24ч)*
- Вся локация – 16 000 грн;
* Сутки (24ч) с 6:00 до 6:00 след.дня.
RESERVATION
▪ The studio can be booked only after 50% of the payment is made.
▪ The charge step to extend the lease is 60 minutes.
CANCELLATION OF RENT
▪ cancellation of the lease is possible no later than 48 hours prior to the beginning of the lease.
▪ If the order is canceled in less than 48 hours, the lessee pays 50% of the rental price, and if canceled in less than 24 hours — 100%.
▪ If the shooting is canceled not for the fault of the studio, the prepayment can not be returned.
How to work in our studio without any remarks?
▪ In the winter, you can only go to the studio in a changing shoe (in your own or use bowls at the entrance)
▪ There can be no more than 8 people in the dressing room at a time
▪ It`s strictly forbidden to bring food and drinks to the pavilion, if it is not provided for shooting and is not agreed with the administration. You can eat in the catering area in the reception room
▪ Smoking in our studio is possible only if is required by the scenic image of the model (strictly with the consent of the administration). You can smoke outside on the floor above, on the roof and outdoors.
▪ Drinking alcohol in our studio is prohibited
▪ The customer undertakes to comply with all rules of fire safety, sanitary norms, rules of exploitation of buildings, engineering equipment, rules of public order, safety rules
CHARACTERISTICS
The area of ​​the pavilion - 560 sq.m .;
Width - 20m;
Length - 28m;
Height to ceiling - 5,5 m;
Height to suspension system - 5 m;
Height to beams - 4m;
Max permissible power - 75kW;
Max permissible load on the beams of the suspension - 250kg;
Air conditioning system - there;
Heating system - electric bulbs;
Method of hanging equipment - scaffold;
Internet — yes;
Sources of natural light - none;
Ability to record live sound - yes;
Drain ladders - yes.
STRUCTURAL SOLUTIONS
Black cyclorama - 9m * 7m;
White cyclorama - 8m * 20m;
Chromakey-cyclorama - 7m * 7m;
Aquazone - 7m * 7m.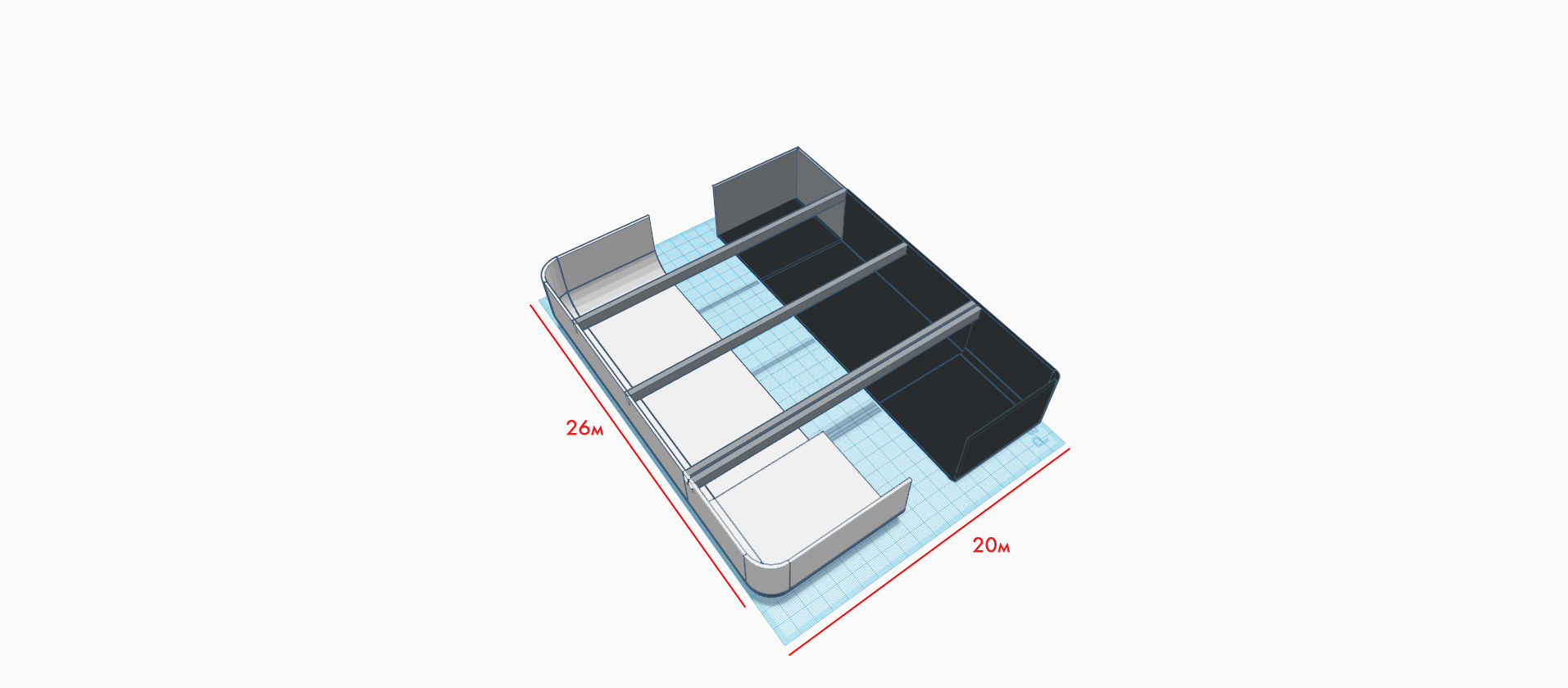 Как выглядит STAGE 1 CINEMA
В галереи вы увидите фотографии STAGE 1 Cinema со всех возможных ракурсов.
Но, нет ни чего лучше, чем освоение в живую!
До скорой встречи!
В павильоне есть две гримерных комнаты
MakeUp room (на 2 поста)
- Аренда гримерки за 1 час - 250 грн
(При аренде павильона на сутки БЕСПЛАТНО)

VIP - MakeUp room (на 1 пост)
- Аренда гримерки за 1 час - 350 грн
- Аренда гримерки за сутки - 5000 грн